Do you enjoy working with people, learning new skills, and giving back to other members of our community? Help make a difference in Jefferson County by being a part of a program that connects eligible, low-income families and individuals to free tax preparation services and earned tax credits.
We have volunteer positions available that provide a wide variety of opportunities and the application of a variety of skills and talents. No experience necessary – you will receive the training you need while serving a vital role in our community. With your help, families can better access the pathway to improved financial stability and bring dollars back into our local economy.
Our tax sites are located in community centers, churches, and businesses throughout Jefferson County. Our hours of operation vary by site but are available both day and evenings seven days a week. Our volunteers come from all walks of life and include students, professionals, and adults who take care of others at home. They range in age from 16 to over 80. So come join us, make new friends, and learn how taxes can be fun!
Through this program, all volunteers will receive some level of training – and those who choose to be tax preparers will become IRS trained and certified.
Click here for Volunteer Training Schedule information
Volunteer hours/days are flexible – contact us to find the right role for you!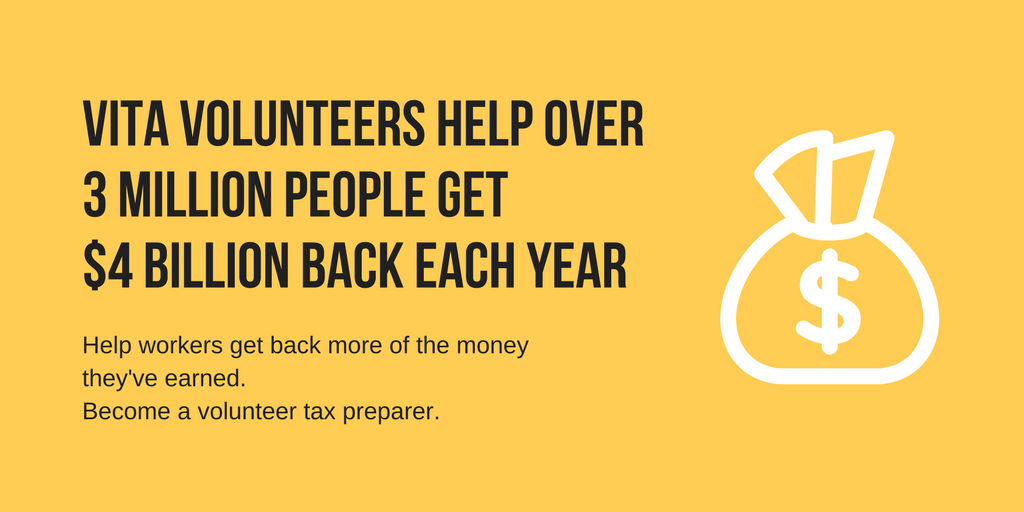 Volunteer Opportunities
Volunteer Income Tax Preparer
Volunteer Income Tax Preparers are the heart of the free income tax program. An income tax preparer prepares Federal and State income tax returns with easy-to-use software provided by the IRS. Since an understanding of tax law and proficiency in using tax preparation software is required, all Volunteer Income Tax Preparers will complete a training program that consists of classroom training and an online certification test. No prior tax knowledge or experience is necessary. After preparing a client's taxes, volunteers will have their work "quality reviewed" prior to electronic filing. Preparers may also be training to provide basic financial coaching to clients and share information to help clients build financial stability. This is a great opportunity for people that want to learn more about taxes, like computers, enjoy working with the public and want to make a difference in their community!
Specific Tasks Include:
Prepare individual federal and state tax returns at designated sites
Ensure clients understand their tax returns
Provide answers to common client questions
__________
Greeter
Greeters are the first to meet the clients when they enter a tax site. They are welcoming and are there to ensure that the client meets the program qualifications and gets answers to basic questions. Greeter training includes a simple Standards of Conduct certification. This is a great opportunity for volunteers who do not want to prepare taxes but would like to be involved with the VITA program.
Specific Tasks Include:
Welcome clients to the site
Explain general eligibility guidelines
Screen to ensure they have necessary documents and identification to complete their taxes
Coordinate the intake process
Help with site navigation
__________
Interpreter
If you speak a language second to English, this might be the volunteer opportunity for you. Interpreter training includes a simple Standards of Conduct certification. Volunteer interpreters help to ensure that every family in the community has access to free income tax preparation services.
Specific Tasks Include:
Translate information gathered from non-English speaking clients to volunteer tax preparers in order to complete income tax returns
Ensure understanding and accurate interpretation of information exchanged between clients and tax preparers/community resource coordinators
__________
Financial Advocate
Financial advocates help clients understand the importance of financial wellbeing and ways to improve it
Specific Tasks Include:
Informing clients about Bank On certified accounts and helping them open one
Referring to additional financial empowerment organizations as needed
__________
Attention: Experienced tax preparers – there are some paid Site Management Positions available.