Since 2001, the Louisville Asset Building Coalition (LABC) has provided free tax services in the Louisville community and surrounding areas of Jefferson County. Through our Volunteer Income Tax Assistance (VITA) Program in partnership with the IRS, we ensure that working families and individuals are maximizing their tax benefits, receiving quality tax preparation services, and gaining access to asset-building opportunities.
In conjunction with our many partners, we assist clients with maximizing the impact of their tax refunds and credits by providing access to deposit and savings accounts, financial education, and other asset-building products and services.
In Louisville, over 80,000 families are eligible for roughly $34 million dollars from the Earned Income Tax Credit that goes unclaimed each year. We provide a free service alternative to the high cost of paid tax preparation services. Our goal is to ensure that everyone who qualifies can access an array of available tax credits including earned income, child, retirement savings, and education, to name a few.
LABC serves individuals and families with household incomes up to $66,000. The average adjusted gross income of our clients is $26,500, with 94% of our clients having an annual income of $50,000 or less. LABC has experienced tremendous growth in its free tax services over the past decade, from filing 635 returns in its first year of operation to filing 10,000 returns in one year. In addition to providing appointments, walk-in and drop-off services at many locations from January through April, we also prepare tax returns and amendments from May through November. In its 20 years of service, LABC has provided free tax preparation assistance to well over 100,000 filers, helping them receive over $205 million in refunds and credits while saving taxpayers over $20 million in preparation fees.
LABC is a not-for-profit organization that is funded by grants and donations from Metro United Way, Louisville/Jefferson County Metro Government, Intuit, and many additional corporations.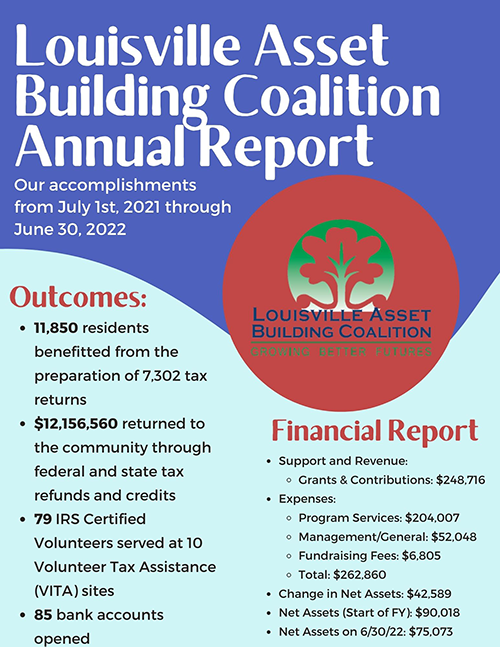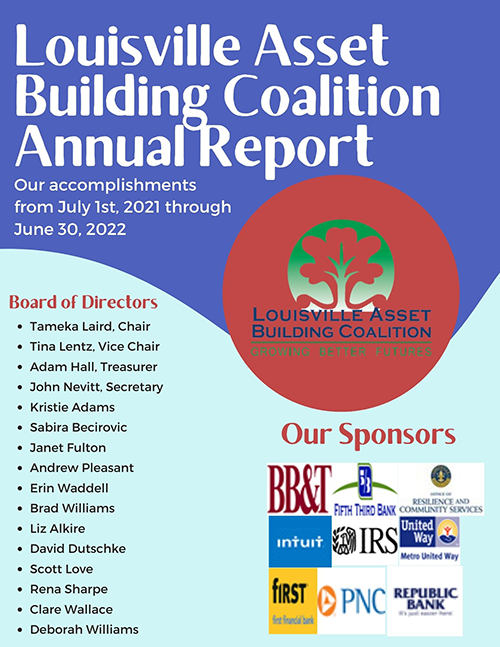 LABC Financial Documents
Provided below are financial documents for the Louisville Asset Building Coalition.
Dept. of the Treasury Form 990

LABC Privacy Policy
Your privacy is important to us. To better protect your privacy, we provide this notice explaining our online information practices. Our privacy policy is simple: we collect no information about you unless you choose to provide that information to us. In addition, we do not give, share, sell, or transfer any personal information about you to any third parties. To prevent unauthorized access, maintain accuracy, and ensure the correct use of information, we have put in place appropriate physical, electronic, and managerial procedures to safeguard and secure any information that we collect. If you have questions about our privacy practices, you can contact us by email at This email address is being protected from spambots. You need JavaScript enabled to view it., or by mail at 701 W. Ormsby Avenue, Suite 201, Louisville, KY 40203.